Crisp Industries, Inc. headquarters are located in Bridgeport, TX, just north of the Dallas/Fort Worth area.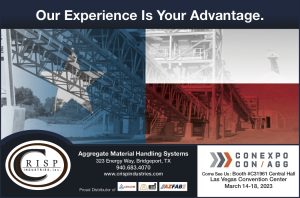 We specialize in design and erection of new aggregate material systems as well as custom fitting major additions to customer's existing operations. We have three, full- service fabrication and manufacturing shops equipped with state of the art equipment, resting on a 30 acre site. Our shops have manufactured and output 500' cable suspension bridges, multi level screen towers to light duty portable plants.
Crisp Industries has a portable product line, Pro-AGG consisting of standard conveyors (40' – 100' radials), wash plants, crushing plants and cold bin hoppers, all designed and manufactured from this location.
Our full service Pump and Pipe Division has their main office out of this location and has allowed us to provide solutions for all our customers slurry needs.
As the official distributor and OEM for many of the industries' leading companies including, APACHE, MWS Equipment, AZFAB, BTI, Argonics, CMS Cepcor Americas, ADS Advanced Detection Systems, Dings Co Magnetic Group, Pro-AGG, Hydro Flow Pumps, and Pipeline Plastics, we provide the best in crushing and vibrating equipment, accessories and parts.