John Crisp – Receives the Bridgeport Lions Club Helen Keller Award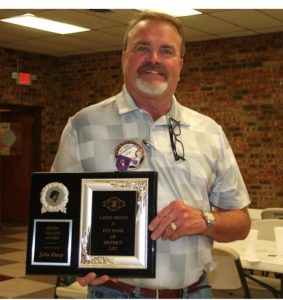 On July 18, 2018 the Bridgeport, Texas Lions
Club, awarded our member John Crisp
with the Helen Keller Award. This award goes to John for his inception of the Bridgeport Lions Club Eyeglass Golf Tournament, which has gone on for 30+ years and given the club the funds to pay for many eye exams, eye surgeries and glasses. Thank you John Crisp for your service, we are proud to call you a Bridgeport Lion!!!
New Parts Manager, George Weatherly
Crisp Industries would like to introduce George Weatherly. George will be our Parts
Manager taking on the role recently vacated by Billy Stanford. 
George is a longtime Wise County resident and has 30 + years working in the Aggregate Industry with TXI, Lafarge Corporation, Pioneer Aggregates, and Lehigh Hanson.
We are excited to have George's rock quarry experience and knowledge and feel he is a perfect fit as our new Parts Manager.
George can be reached at 940.683.4070 Ext. 24 or gweatherly@crispindustries.com or after hour emergencies at 940.393.0803.
Please join us in welcoming George to our team.